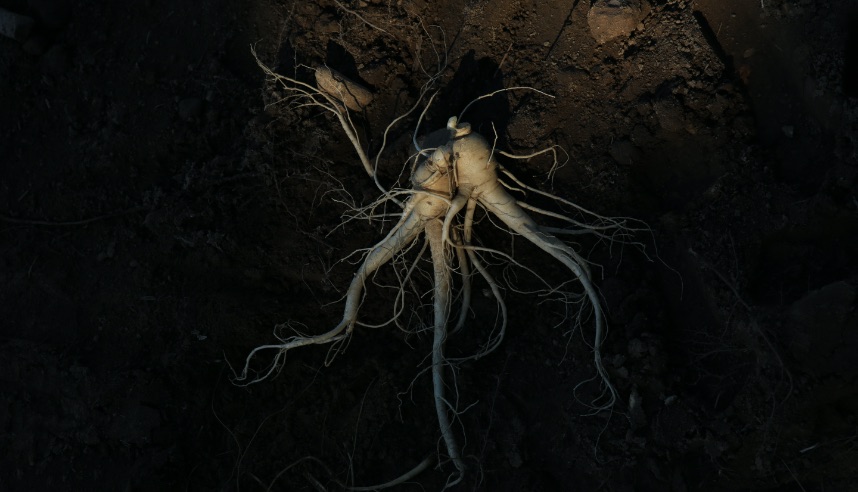 Frequently Asked Questions
Ginseng is currently the largest field-grown horticultural export crop in Canada, and its uses are more common than you might think.
You can find ginseng as an ingredient in many of your favourite products – from beauty elixirs to gas station energy drinks. Here are some frequently asked questions about the ever-intriguing Panax quinquefolius ginseng root.
What are the types of ginseng?
There are two main species in the ginseng genus which belong to the Araliacea family of plants. Panax quinquefolius is one species and is commonly referred to as North American, Western, Canadian, Ontario or American ginseng, and Panax ginseng C.A. Meyer (after the botanist who named the plant) and is commonly referred to as Asian, Chinese, China White or Korean ginseng. If the ginseng root is boiled and/or steamed, it is referred to as Red ginseng (as opposed to white).
 
Some other species that belong to the ginseng genus are Panax japonicus (Japanese Ginseng), Panax pseudoginseng (Himalayan ginseng), Panax notoginseng (Sanqui ginseng), Panax trifolius (Dwarf ginseng), and Panax vietnamensis (Vietnamese ginseng). However, these species are not readily available for commercial trade or have enough clinical studies to support health benefits.
 
Moreover, while there is scientific data on Ashwagandha or Indian ginseng (Withania somnifera), Brazilian or South American ginseng (Pfaffia paniculata) and Siberian ginseng (Eleutherococcus senticosus) these do not belong to the ginseng genus and are therefore improperly named.
Do all ginseng products carry the same benefits?
If you have tried ginseng and seen no results, it's possible that you're taking a low-quality ginseng supplement in too small doses. If you're going to take ginseng, do your research to ensure you're getting it from a qualified retailer or certified sellers displaying the Ontario Ginseng Growers Association "Running Root" seal. By using the "Running Root" seal, retailers guarantee their products contain only 100% Canadian Ginseng (Panax quinquefolius) that is sourced from native Ontario soils.

What type of ginseng is best for you?
North American and Asian ginseng differ in their active compounds and effects on the body. Generally, North American ginseng is said to be a relaxing agent, whereas Asian ginseng is believed to be more energizing. Ginseng contains an active compound called ginsenosides. The primary difference between North American ginseng and Asian ginseng is the level of active compound in each. The ginsenoside compound in Panax quinquefolius works to provide many health benefits.
Where can I buy North American ginseng?
Is ginseng easy to add to your diet?
Yes! You can consume ginseng root in many ways. A fresh root can be eaten raw or steamed lightly to soften it. Dried ginseng root can be found whole, sliced or powdered. Ginseng root extract is also available as an oil, tablet, or capsule. If you want to get creative in the kitchen, tea can be made by brewing it in water. Simply add sliced ginseng to hot water and let it steep for a few minutes. Also, ginseng can be added to your favourite recipes such as soups and stir-fries.
What does ginseng taste like?
The flavour of ginseng root is slightly bitter and earthy, with a touch of sweetness. Some also describe it as highly aromatic with a sweet flavour and earthy undertones. 
Is North American ginseng safe?
Consuming ginseng is generally regarded as safe and should not have any severe side effects according to many studies. Ginseng is safe for people with diabetes, but due to its ability to lower blood sugar, diabetics who are taking medications should monitor their blood sugar levels closely when ingesting this herb. The use of ginseng over an extended period could diminish its effects on the body. For best results, take ginseng every 2–3 weeks with a one or two-week break in between.
Who should not take ginseng?
Ginseng products are not recommended for children or women who are pregnant or breastfeeding. Diabetics who are taking medications should monitor their blood sugar levels closely when ingesting this herb.
When should you take ginseng?
Antioxidants are beneficial regardless of age or health status, but ginseng treatment may be especially beneficial to those suffering from stress, mental fuzziness, weak immune systems, or sexual dysfunction.
How much ginseng should I take?
The amount you should take depends on the condition you want to improve. As a general rule, 1–2 grams of raw ginseng root or 200–400 mg of extract can be taken daily. It is best practice to start things off slow and gradually increase the dosage as your body adjusts. Choose an extract that contains 2–3% ginsenosides and consume it before meals for maximum absorption.
How long does it take for your body to digest/absorb ginseng?
Water-soluble ginseng, when taken orally, is generally absorbed within 24 hours.
Are there side effects?
Taken appropriately, North American ginseng is generally regarded as safe when taken by mouth. The American Botanical Council Clinical Guide to Herbs (2003) reports that there are no known contraindications or drug interactions for North American Ginseng. There have been no side effects associated with using dosages of 100-3000 mg daily for up to 12 weeks. Single doses of up to 10 grams have also been used safely. Symptoms may include headache.
How do I store fresh ginseng root?
There is a difference in storing fresh versus dried ginseng, much like storing fresh and dried herbs. When you buy fresh groceries, you will want to keep them at a cool temperature and away from sunlight and oxygen to prevent spoiling. Placing the ginseng root in an airtight container and then into the refrigerator will prevent it from growing mold and preserve its freshness. Ideally, you should store ginseng in a glass jar since the seal is more reliably airtight than plastic bags or containers. This way, your fresh ginseng will usually last you a few weeks at peak quality.
How do I store dried ginseng?
You may choose to buy dried ginseng if you do not use it as often and want a product that has a longer shelf life than fresh ginseng. Luckily, when stored properly, dried ginseng can last anywhere from three to five years. Similar to fresh ginseng, you will need to keep dried ginseng away from excess sunlight and oxygen to keep its compounds in check. Unlike fresh, however, dried ginseng does not need to be refrigerated and should be kept in a tightly sealed container in a cool, dry place such as a pantry or cabinet for optimum freshness. Ginseng can be a great way to enhance your overall health and buying the highest quality will make certain you receive those benefits.
Can I travel with ginseng?
It is legal to transport cultivated North American ginseng out of Canada, including into Mainland China, Hong Kong and Taiwan. According to the Convention on International Trade in Endangered Species (CITES), if you are transporting less than 4.5 kilograms of cultivated North American ginseng root out of Canada, a CITES export permit administered by the Canadian Wildlife Service must be attached to each package.
• If you are transporting more than 4.5 kilograms of cultivated North American ginseng root out of Canada, a commercial CITES export permit is required.
• North American ginseng products such as powder, pills, extracts, tonics, tea and confectionery are exempt and do not require any CITES export permits.
• Authorized Canadian retailers provide necessary documents at purchase for customers, including CITES export permits and commercial CITES export permits.